Nanocore rat cracked - Free Download
By shortbus , April 27 in Malicious Software. Several beta versions of NanoCore surfaced on the dark web between and before the most recent version was released in March This current version of NanoCore has expanded beyond the dark web and is readily available online.
Whether the original intent of NanoCore was to be a free tool for intrusions or a paid piece of software to be used legitimately is unknown. Whatever the case may be, all current versions of NanoCore appear to have all base plugins and functionality available without restriction.
You need to be a member in order to leave a comment. Sign up for a new account in our community. Already have an account? Malicious Software LeakPortal News: Hidden Content Reply to this topic to see the hidden content. Share this post Link to post Share on other sites.
I thought Nanocore was stop being worked on. Create an account or sign in to comment You need to be a member in order to leave a comment Create an account Sign up for a new account in our community. Register a new account. Sign in Already have an account? No registered users viewing this page.
This pack includes 41 rats, all are for windows and are great. If you have been looking for a specific RAT, Your search ends here, im confident you will find it here. The pack includes njRAT 0.
Support is given to buyers only. You can get support via conversation only. Please get familiar with FAQ in the bottom of this page first. Item modifiers override shop ones which override global ones. All command permissions have been listed above.
However, players need additional permissions to access each shop. You can give or revoke access to particular shops by using the shopguiplus. You can use the wildcard permission node shopguiplus. Otherwise you have to manually add permissions to access each shop. In order to ban player from accessing particular shop just negate the corresponding permission node. If you want to sell preset mob spawners you also need following plugin: All configuration files are easy to edit.
If any of them lacks a feature you wish to be added, please contact us. Configuration examples please don't copy them, the plugin will generate all necessary files: How do you add more pages? Adding a new page is as simple as adding a "page: When there's at least 1 item on a page it will be automatically added to the gui. Slot numbers start from 0 for every page. Please check your server startup log for errors. You can PM me the log if you need help. You have to either update it according to this and this update notes or delete your config.
How do you make it so bought commands are executed by the player instead the console? Simply add the runAsBuyer: Why do you have to use these weird material names instead of IDs? You can use numeric IDs as well, just make sure you enter only the ID without any data value it has to be set in a separate entry like that: I can't find an item on the materials list, what do I do? Some of the items have different material name than that one you know from the game and some require changing the data value damage value of the item.
Please look for such items here. Make sure you don't have any button like back, next page, previous page buttons on a slot higher than the size of the shop inventory.
I'd like to change the size of one of my shops, how can I do that? You can change the size of any of shop inventories in shops. Simply add a "size: I'd like to display one item in the shop but actually sell another one, how can I do that? You can set another item as a placeholder in order to sell a different item even with a different lore or name by adding additional a "placeholder" entry below specific item in shops. You can enable quickBuySell in your config.
This will result in the amount selection GUI not being closed after buying an item. Please refer to http: How do you use the per-item permissions? Simply add the denyDirectAccess: You can remove it by adding stripItemMeta: How do you change the maximal item stack size regardless of global settings from config. Simply add a maxStackSize entry to desired item in shops.
How do you sell multiple permissions? Simply add a permissions list to the shop item and list there all permissions. You can add the force flag if you want to allow players to buy the entire set of permissions even if they already have one or more of them they won't be able to buy if they have all of them though. How do you edit the format of displayed price? Same placeholders apply as in the default messages from lang. How do you limit the item stack size players are able to enchant at once?
How do you set a different name of each page of the shop? You can set as many names as you wish the format is PAGE: How do you sell spawners? Simply add a "compareMeta: You can't completely change it, you can only add aliases using the spigot's built-in commands.
It will be replaced with an appropriate tag. If you want to have only one of them displayed simply set the other one to blank in lang. The example below shows how to have only the "Owned" tag displayed. How do you set up the plugin to use Gringotts currency? The plugin uses the main economy on your server, make sure it's Gringotts.
You need Vault as well. How do you set up the price modifiers? It's explained at the wiki: You can add it in commands. Add the following section to your config. Set sellsAllItems to true in the sellHand section in config. You can add either worldsWhitelist to whitelist allowed worlds or worldsBlacklist to blacklist blocked worlds entry to the shop in shops.
Adobe Photoshop CC v Thanks for all the positive comments guys April 05, Post updated to Version Added Alfafile links March 10, Added Adobe Photoshop version v Post updated to the latest version v Work across desktop and mobile devices to create and enhance your photographs, web and mobile app designs, 3D artwork, videos, and more.
Better brush organization Organize and save your brushes in the order you want. Drag and drop to reorder, create folders and subfolders, scale the brush stroke preview, toggle new view modes, and save brush presets with opacity, flow, blend mode, and color.
New, faster reaction time is especially noticeable when working on large documents with large brushes. With deeper integration between all the Adobe Creative Cloud photography desktop and mobile apps, all your photos are synced and accessible everywhere. Brush stroke smoothing Get a more polished look faster with a new smoothing algorithm.
Vary the amount of smoothing for cleaner lines, even when using a mouse. Available in the Tool Options bar, along with Flow and Opacity. Exclusive brushes from Kyle T.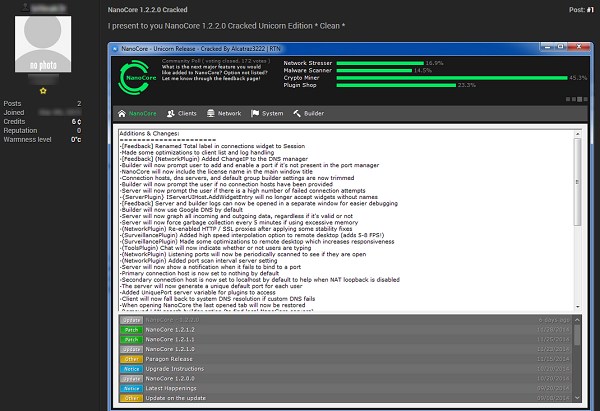 NanoCore 1.2.2.0 Cracked - the Best RAT AT THE MOMENT
About Us Nulled Blog is a general discussion community where you can participate in active discussions, make new friends, find great leaks, win freebies and so much more.. It's one of the easiest way to activate Photoshop. How do you sell spawners? Please post a simple "Thanks" which literally takes 2 seconds if you downloaded the software. Sign In Sign Up.
Full, cracked version of NanoCore RAT leaked, onslaught of infection attempts expected
The plugin uses the main economy on your server, make sure it's Gringotts. Today leakportal announces the release of our Teamspeak 3 Server crack! Properties panel improvements Keep better track of details for Adobe Stock assets by viewing title and license state. You can PM me the log if you need help. Newsletters Subscribe to get regular updates from Help Net Security. I provide free,fast, and resumable links for free users.
Download NanoCore RAT 1.2.2.0 Cracked – Remote Administration Tool
Teamspeak 3 Server cracked by LeakPortal. This pack includes 41 rats, all are for windows and are great. Posted 28 January - Vary the amount of smoothing for cleaner lines, even when using a mouse. How do you sell spawners? Each time, the use of the RAT, and Symantec detections of it, saw an increasing spike: Javascript Disabled Detected You currently have javascript disabled. Click "Yes" -It will ask you to locate the amtlib. How do you sell multiple permissions?
Summary
Reviewer
Review Date
Reviewed Item
Author Rating